Dental Implants
The key benefit of dental implants over other tooth replacement systems is that an implant connects directly to the jaw bone. It's obviously not the same as the original connection, but functions just the same. When a tooth is lost, bone loss will eventually occur in that region because the root is no longer stimulating and stabilizing the bone. By using titanium--which biochemically joins to bone--to replace the root, you get a bond that more accurately replicates the one found in nature.

What Are Dental Implants?

Dental implants are the most advanced therapy available to replace missing teeth. Dental implants are root replacements for missing teeth. Replacement teeth are created by your dentist and placed on the foundation provided by dental implants. Dental implant restorations generally look, feel and act like natural teeth.

How Do Dental Implants Work?

Dental implants are made with materials well accepted by the body. Bone forms a natural mechanical bond with the dental implants. Dental implants provide a base for your dentist to build your replacement tooth or teeth.
What Are The Benefits Of Dental Implants?

Did you know that oral health is a major factor of good general health?¹ Replacing your missing teeth with dental implants and implant crowns should allow you to live your life as if you had never suffered from missing teeth. When your dental implant treatment is complete, you should be able to chew, speak and socialize without experiencing the negative emotions that having missing teeth can sometimes cause.
Dental implants with implant crowns will help minimize the amount of bone that will be lost in the areas of missing teeth. Preserving oral bone may help maintain your remaining natural teeth and natural facial contours. Replacing your missing teeth with dental implants may also reduce your risk of having poorer nutritional habits often found in patients who do not replace missing teeth.

Are Dental Implants Difficult To Take Care Of?

Dental implants are designed to be a long lasting solution for tooth loss and are cared for with brushing and flossing, just like natural teeth. Caring for non-implant tooth replacements can be much less convenient compared to dental implant-supported teeth. Dental implants also eliminate the need to use messy dental adhesives.

Are Dental Implants Expensive?

Although dental implants may sometimes have a higher initial cost, when all the ongoing expenses of other treatment options are added up, most people would agree that dental implants are more than worth it!
When you contrast the time investment that dental implant therapy requires versus the repeated office visits required for adjustments, special cleanings and replacements for partials, bridges and dentures, it is easy to imagine how much better life can be with dental implants.

Am I A Candidate For Dental Implants And Implant-Retained Teeth?

Only your dentist can say for sure, but most patients can be treated with dental implants. Your dentist will want to evaluate you carefully with an examination and x-rays and will make specific recommendations to you about the best treatment to replace your missing teeth. Ask your dentist today for more information on how you might benefit from dental implants and implant-retained teeth.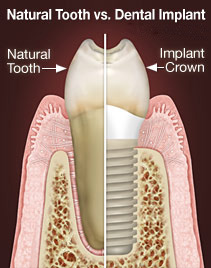 Single Tooth Implants/Implants for Missing Front Teeth –

Single-tooth implants can be used in people who are missing one or more teeth. An implant is surgically placed in an opening that is made by your dentist in the jawbone. After the implant integrates (attaches) to your bone, it acts as a new "root" for the crown that will be replacing your missing tooth. A crown (cap), which is made to look like a natural tooth, is attached to the implant and fills the space left in the mouth by the missing tooth.

What are the advantages of a single-tooth implant over a bridge?

A dental implant provides several advantages over other tooth replacement options. In addition to looking and functioning like a natural tooth, a dental implant replaces a single tooth without sacrificing the health of neighboring teeth. The other common treatment for the loss of a single tooth, a tooth-supported fixed bridge, requires that adjacent teeth be ground down to support the cemented bridge.
Because a dental implant will replace your tooth root, the bone is better preserved. With a bridge, some of the bone that previously surrounded the tooth begins to resorb (deteriorate). Dental implants integrate with your jawbone, helping to keep the bone healthy and intact.
In the long term, a single implant can be more esthetic and easier to keep clean than a bridge. Gums can recede around a bridge, leaving a visible defect when the metal base or collar of the bridge becomes exposed. Resorbed bone beneath the bridge can lead to an unattractive smile.

What Happens When You Lose a Tooth?

When you lose a tooth, especially a back tooth, you may feel you don't need to replace it, since no one can see that it's missing and you have plenty of other teeth. However, there is more bone loss going on under the surface once a tooth is lost. Surrounding each tooth is an alveolar bone that supports the tooth and when the tooth is lost, that bone basically melts away. This is why people who have lost most of their teeth and are not wearing dentures appear to have a caved-in appearance to their mouths.
Besides causing damage to the immediate area, tooth loss affects remaining teeth as well. Teeth create a structure for the face and their loss can shift the surrounding teeth, creating esthetic issues and bite problems. A lost tooth can also affect facial structures such as the jaw, muscles, jaw joints, and even the skin. If several teeth are lost, it's not uncommon to suffer from social consequences and poor nutrition.

Rebuilding Bone

When the supporting alveolar bone melts away, it's gone for good, but through grafting, a skilled dental professional can recreate bone to fuse with and support an implant. This is wonderful news, but it is still best to have a dental implant as soon as possible after the tooth is lost for the most predictable esthetic outcome.

Timeline

Replacing a tooth with an implant and a crown is not a one-day procedure. The implant needs time to properly adhere to the bone and create a healthy fusion before the crown can be attached and full bite force can be applied. In most cases, it will take a few months to complete the process. Due to the timeline, dental implants are actually a series of steps; each is very different and may require an individual specialist.

Implant Supported Dentures

An implant-supported denture is a type of overdenture that is supported by and attached to implants. A regular denture rests on the gums, and is not supported by implants.
An implant-supported denture is used when a person doesn't have any teeth in the jaw, but has enough bone in the jaw to support implants. An implant-supported denture has special attachments that snap onto attachments on the implants.
Your implant-supported denture will be more stable than a regular denture. You will find it easier to speak and you won't have to worry about the denture becoming loose or falling out of your mouth. You generally will be able to eat foods you could not eat before.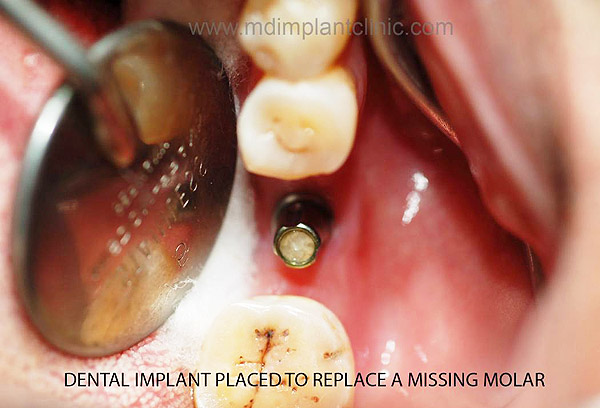 Before Treatment
After Treatment
Before Treatment
After Treatment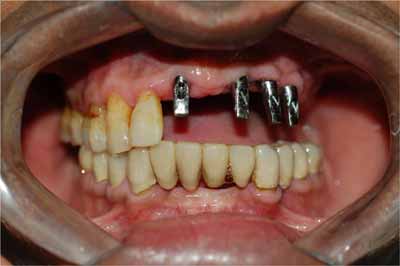 During Treatment